Boxebu.biz – Atlet petinju asal Filipina Manny Pacquiao sempat menjadi perbincangan hangat pada tahun 2020.
Mengingat rumor bakal maju sebagai calon Presiden Filipina pada pemilihan 2022 mendatang , Manny tetap optimis dengan dia sendiri.
Kabar Manny Pacquiao bakal maju ke bursa calon Presiden Filipina berasal dari mantan promotornya, Bob Arum.
Beberapa waktu setelah isu tersebut menyebar, Bob Arum dan atlet sang petinju asal filipina memberikan klarifikasi bahwa kabar tersebut tidak benar.
Akan tetapi, faktanya sedikit berbeda dan bisa saja terjadi. Manny Pacquiao berpeluang besar maju ke bursa pencalonan orang nomor satu di Filipina pada tahun 2022.
Melansir Rappler, Partai PDP-Laban bahkan secara resmi sudah melantik Pacquiao sebagai presiden pada akhir Desember 2020 , Dia lah yang paling terbaik.
Sebagai sosok yang dekat dengan Pacquiao, Duterte juga lebih dari sekali meminta legenda tinju berjulukan PacMan itu untuk maju sebagai Presiden Filipina.
Terkini, nama Manny Pacquiao kembali menyedot perhatian lantaran dia bakal kembali naik ring tinju.
Manny Pacquiao adalah petinju kelas welter terhebat dalam sejarah. Sedangkan Spence menduduki status petinju kelas welter terbaik di dunia saat ini.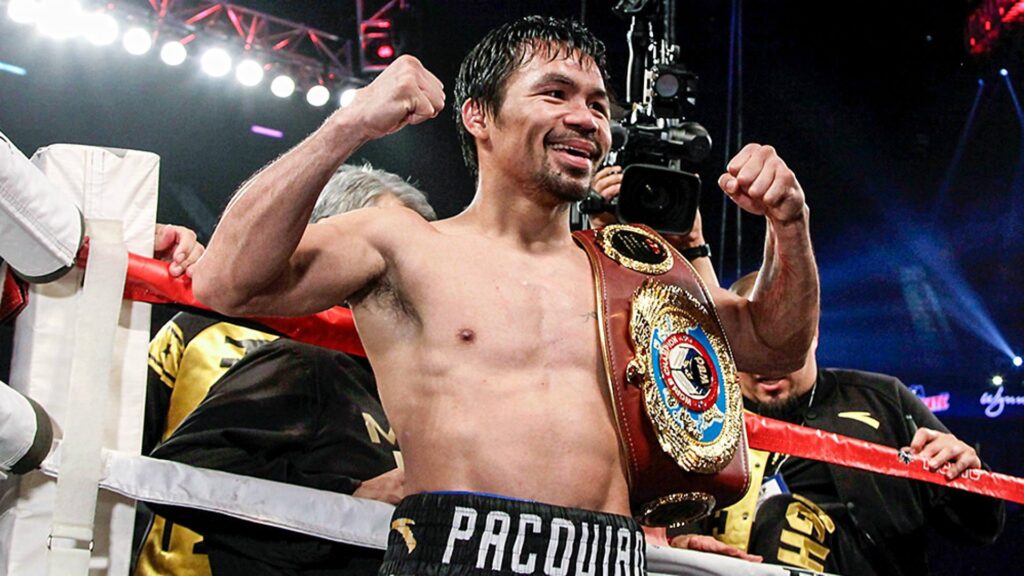 PacMan dan Spence bakal berhadapan satu sala lain dalam perebutan gelar juara dunia welter WBC dan IBF di Las Vegas, 21 Agustus 2021 mendatang pasti juara.
Rekor Manny Pacquiao saat ini yaitu 62 menang (39 KO), 7 kalah, dan 2 kali imbang.
Sementara Spence memiliki rekor 27 menang (21 KO).
Biodata Manny Pacquiao Atlet Petinju Asal Filipina
Nama lengkap: Emmanuel Dapidran Pacquiao
Nama akrab: Manny Pacquiao
Julukan: The Destroyer, PacMan, The Mexicutioner
Tempat lahir: Kibaw, Bukidnon, Filipina
Tanggal lahir: 17 Desember 1978 Tinggi
badan: 169 cm
Jangkauan tangan: 170 cm
Gelar:
WBC kelas terbang (1998)
IBF kelas bantam super (2001)
The Ring kelas bulu (2003)
WBC kelas bulu super (2008)
WBC kelas ringan (2008)
The Ring kelas welter junior (2009)
IBO kelas welter ringan (2009)
WBO kelas welter (2009)
Baca Juga : Artikel Tentang Atlet Bulu Tangkis

Baca Selengkapnya…..